Buying a New Honda Accord

The new Honda Accord takes the previous generation's fuel-efficient and practical mid-size sedan and offers a redesign that delivers a new look and balances performance, comfort, and practicality. Though the previous generation of the Honda Accord has been a favorite choice for drivers thanks to its all-around capabilities, the new Honda Accord offers improvements that seek to make the driving experience even better.
Honda Accord New Model Year (2023)
The new model year Honda Accord offers a redesign that is sleek and sophisticated without losing any of the reliability or practicality of previous models. There are quite a few improvements and changes, including the exterior design, the length of the car, an improved platform, updated engines, and new standard technology and safety features. All trims come with a touchscreen display center and updated standard safety features that work to prevent collisions and protect passengers.
The new Honda Accord comes in five available trims for purchase–LX, EX, Sport Hybrid, EX-L Hybrid, Sport-L Hybrid, and Touring Hybrid. The four top-tier trims are available only in a hybrid powertrain. Though there are standard technology and safety features throughout the different trims, there are some notable differences that should be taken into account when purchasing a new Honda Accord.
The Honda Accord LX: At the lowest price, this basic trim comes standard with cloth seats, 17-inch wheels, and a 7-inch infotainment display center.
The Honda Accord EX: This trim has the same turbocharged, four-cylinder engine and many of the same features as the LX. Its touchscreen display is compatible with Apple CarPlay/Android Auto and two USB ports.
The Honda Accord Sport Hybrid and the Honda Accord Sport-L Hybrid: Both of the Sport trims come with cloth seats, and the infotainment display center is bumped up to twelve inches.
The Honda Accord EX-L: This trim offers style upgrades with leather upholstery.
The Honda Accord Touring Hybrid: This high-end trim comes with some extra technological features, like a wireless charging station for smartphones, Bose audio system, and Google connectivity for the infotainment touchscreen.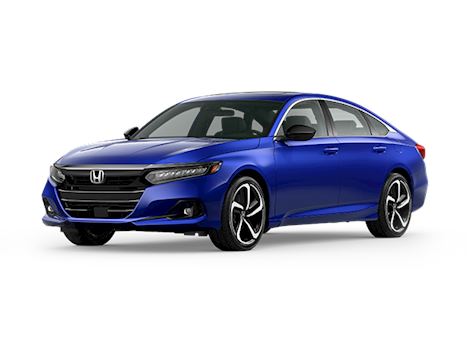 Why Should You Buy a New Honda Accord?
The new Honda Accord is perfect for those who want a reliable and safe car as they go about their daily lives. In this new generation, you can expect a sleek design that is packed with the latest standard Honda safety technology and features. With this new redesign, drivers will enjoy a comfortable and smooth ride thanks to its various improvements from the previous generation.
Who Should Buy a New Model Year Honda Accord?
If you are looking for a great midsize sedan, then the new Honda Accord is a great choice. Its roomy interior and improved safety features make it a great car for small families and others who want a lot of protection and safety features without sacrificing style. There are a few points to consider as you shop around for sedans that may convince you to go with the new Honda Accord.
The new model year Accord comes with redesigned safety equipment, including new driver and front passenger airbags, as well as completely new knee airbags and side impact airbags for rear passengers. This new safety equipment is perfect for families looking for the best possible safety measures.
For those looking for a sleeker design than previous models, the new Honda Accord offers an exterior update that is sophisticated and refined.
There is plenty of interior space and legroom in the rear passenger seat area that is perfect for growing families that might like a bit of extra space to feel less cramped.
Should You Lease the New Honda Accord?
When it comes to figuring out leasing options and payment plans, knowing which payment option is right for you can be confusing. Our finance team at Brickell Honda will work with you to figure out the best solution for your financial situation. Leasing is a great option when you need affordable low monthly payments. Talk more with our finance team to see if leasing is the right path for you.
What Honda Accord Trim Is Right for You?
With so many different trim options available for the new Honda Accord, you may feel unsure of what option is right for your needs. There are noticeable price differences between the trims, as well as different engine options (4-cylinder versus hybrid). It's important to think about your needs and preferences with your budget in mind. If the higher price point is worth a specific feature, then you should go with that model. Here are a few points to consider as you shop the new Honda Accord trims.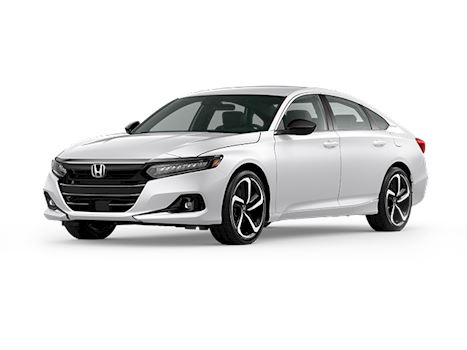 The basic trim with the lowest price point does not come as a standard hybrid option. So if the hybrid option is important to you, then you'll have to go with a more expensive trim. The LX and EX basic trim options also come with a smaller touchscreen display than the others and feature less technological gear than others.
The highest-tier options, the EX-L and Touring, offer a more sophisticated interior with leather upholstery and more technology options. If you want a hybrid car that has more technology features than the other trims, then these two options are going to be the top car choices for you.
No matter what trim you choose, the new Honda Accord offers plenty of standard safety features and equipment, plus a new sleek design that will appeal to many people. This sedan is a great choice for everyday driving and commutes that will keep you and your family safe and comfortable.
Our team at Brickell Honda strives to provide excellent customer service throughout your entire car shopping experience. From offering test drives, providing expert opinions, and answering questions related to financing options, our team is prepared to help you find the perfect car for you and your family.