The Honda HR-V's current model year is an all-new generation of this sub-compact SUV. In this new generation, the HR-V's platform is no longer based on the Honda Fit hatchback but instead is based on the latest Civic model. This change gives the car a more contemporary look both for the exterior and interior of the vehicle and is also built to be more powerful and have better control than the models in the previous generation.
Honda HR-V Current Model Year (2023)
What's new with the Honda HR-V's current model year? Turns out there are a lot of big changes with this all-new generation, including driving capabilities, looks, and safety and technology features. The current year model enjoys a better suspension and a more powerful engine than models in the past, making for better ride quality and a pleasant driving experience on your daily commute. It packs a lot of power with 158 horsepower and 138 lb-ft torque. All trims on this model come with the standard Honda sensing safety technology, though the EX-L trim comes with a couple of extra safety features available that may be worth the higher price tag.
Currently, Honda HR-V comes available in three different trims. All trims include standard noise cancellation for the cabin, hill descent control, and a multi-angle rearview camera. However, there are a few differences between the various trims that you should consider when purchasing a Honda HR-V.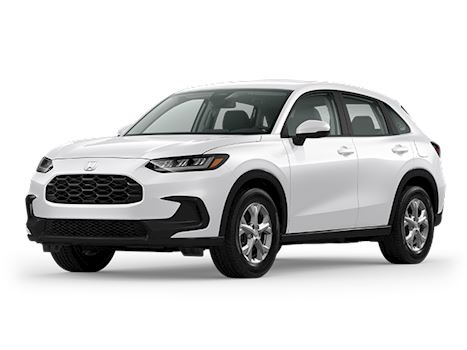 The Honda LX: Coming in at the lowest price range of the three trims, the LX has standard safety features. Its technology features include Bluetooth, a 7-inch touchscreen, and Apple CarPlay and Android Auto compatibility.
The Honda Sport: The Sport features much of the same technology and safety features of the LX but also includes an auto lock and blind spot information technology. In this model, there are also some additional comfort features, including heated front seats, a leather-wrapped steering wheel, and a rear privacy glass.
The Honda EX-L: In addition to the safety and technology features available in the other two trims, the EX-L offers a wireless phone charging station, low-speed braking control, and parking sensors. It also features additional aesthetic touches, such as a moon roof, leather-trimmed seats, and ambient LED lighting.
Why Should You Buy a New Honda HR-V?
With its all-new redesign, the new Honda HR-V is a much better option than its predecessors. Its exterior and interior design has been revamped, offering a more sleek look. This model is wider and longer to provide a lot of interior space. Additionally, the power and control of the new Honda HR-V have been improved, making for a smoother, more comfortable ride.
Who Should Buy a New Model Year?
The new Honda HR-V is a sensible and practical driving choice. It has always had extra interior space that is perfect for those looking for just a bit more space than the average car. Here are a few selling points to consider for the current model year.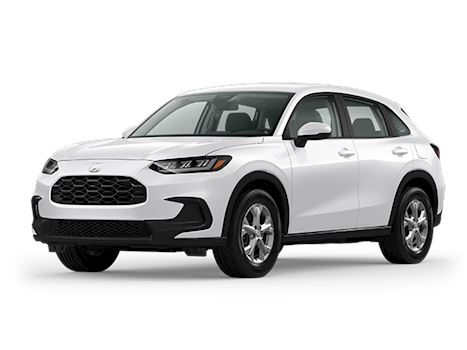 The HR-V interior has plenty of comfort and space that makes this a great car for long road trips, daily commutes, or just running short errands around town.
All-wheel drive options on all three trims make driving in terrible weather, like the snow and rain, easier.
The new model also includes updated safety and technology features with a touchscreen and driver-assisted technology features.
If you are looking for a compact SUV that offers plenty of space, comfort, and a contemporary look, then the new Honda HR-V will work well for your needs.
Should You Lease the Honda HR-V?
At Brickell Honda, our dedicated finance team provides easy-to-understand and upfront payment option plans for your situation. Leasing your next car could be a great option for you. With affordable monthly payments and low upfront deposits needed, leasing will have you driving off with an HR-V in no time.
What Honda HR-V Trim Is Best for You?
Figuring out what trim to choose can be difficult. With the options available for the Honda HR-V, there are noticeable price differences, as well as technology and safety features to consider when choosing your next car. If these features are worth the additional cost, then we recommend you choose the trim option that suits your individual preferences.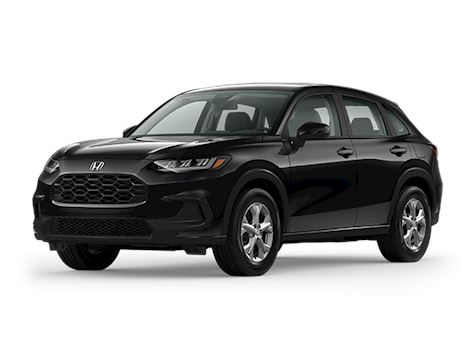 If you're just looking for the comfort and space that the Honda HR-V provides, then the basic option, the LX, is probably the best option. It still has all the standard safety features and touchscreen technology of the other two trims, yet at the lowest price.
The Sport option offers some great upgrades, like heated seats and blind spot technology, making this a great value option. It's also the only trim that comes with 18-inch wheels.
If you're looking for a bit more sophistication in the interior, the EX-L offers a moon roof and leather-trimmed seats. At a higher price than the other two trims, the EX-L offers mostly superficial upgrades but does include some technology additions, such as parking sensors and wireless phone charging.
No matter the trim you choose, the new Honda CR-V is an excellent car for traveling, thanks to its redesign. Ultimately choosing the right trim depends on your needs, preferences, and budgets.
If you need more information or could use our professional expertise to choose a trim that fits your needs and lifestyle, our team is here to help you. Our team at Brickell Honda provides excellent customer service for your car buying experience. From helping you decide on a model, going for test drives, providing opinions on the available trims, or helping you pick the right payment plans for your financial situation, our team is here to help you pick out the perfect car that fits your budget and lifestyle.