The Honda Pilot's new model year is an all-wheel drive, three-row SUV that has been outfitted with a new exterior shape and given technology upgrades. With this refresh, the new Honda Pilot is more powerful than ever before and takes on a more rugged, boxier exterior look than previous generations.
Honda Pilot Current Model Year (2023)
What's different about the new Honda Pilot from previous generations? The new Pilot makes notable improvements that are geared toward adventure rather than suburban life. Though these changes are not wildly different from previous models, extra space, a focus on refined design, and compatibility with outdoor adventure are noticeable. The Pilot will still be offered with a single V-6 engine. However, the new engine will have 285 horsepower and 262 lb-ft of torque. This power is a marginal increase from the previous model. It will also be paired with a 10-speed transmission instead of the 9-speed that the previous model offered. This improvement promises a better riding experience. The interior of the cabin is designed with simplicity in mind and is outfitted with a 7-inch touchscreen infotainment display on all the base trims, increasing to a 9-inch screen for the more expensive trims.
The new Honda Pilot offers five trims to choose from–Sport, EX-L, Trailsport, Touring, and Elite. All trims include updated designs, technology, and safety features which include heated front seats, Apple CarPlay and Android Auto, a Honda sensing suite of standard safety systems, and a multi-angle rearview camera.
The Honda Pilot Sport: At the lowest price, the Sport comes with large 20-inch wheels, roof rails, chrome exhaust, and black exterior trim.
The Honda Pilot EX-L: This trim has slightly smaller wheels than the sport trim, with 18-inch wheels.
The Honda Pilot Trailsport: This trim has been updated to perform better for offroading driving with a lifted offroad suspension and new stabilizer bars. The new model will also include rear and front tow hooks, a new trail driving mode, and all-terrain tires.
The Honda Pilot Touring: In this model, there is a removable middle seat, making room for seven or eight passengers as needed. It also includes more luxury technological upgrades, like the Bose audio system and wireless smartphone charging.
The Honda Pilot Elite: This trim offers many of the same safety features, plus more luxury technology upgrades. This trim has a Bose sound system, a mesh front grille, and wireless charging.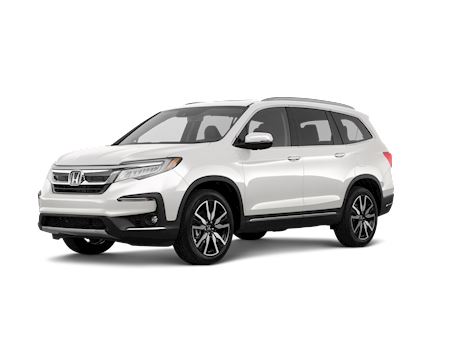 Why Should You Buy a New Honda Pilot?
The new model year Honda Pilot focuses on providing a design that is refined and ready for outdoor adventure. You can count on a simple and elegant interior design that has more legroom and storage solutions than its previous models. The boxy and rugged exterior suggests a look that is more suited for the outdoors than the previous generation's round shape. The Trailsport trim comes with many updates that make it a great choice if you are looking for a vehicle to handle a lot of offroading driving.
Who Should Buy a New Model Year Honda Pilot?
The new Honda Pilot offers a simpler and more refined interior design, plus a lot of standard technology and safety features available. If you are looking for an SUV that has plenty of space, updated technology, and offroading capabilities, then the new model year Honda Pilot might work well for you.
With all of its space and focus on adventure, it makes a perfect SUV for families and those who like to go on outdoor adventures.
This model offers all-wheel drive for those who will need to make snowy or rainy commutes.
There are plenty of updated safety features for those who want the best protection for their families.
Should You Lease the Honda Pilot?
Leasing might be the right option for your financial situation. With affordable monthly payments and low upfront costs, leasing might be the quickest way to drive away with a new Honda Pilot. At Brickell Honda, we have an experienced finance team that can help you sort through your options so that you can choose the payment plan that is best for you.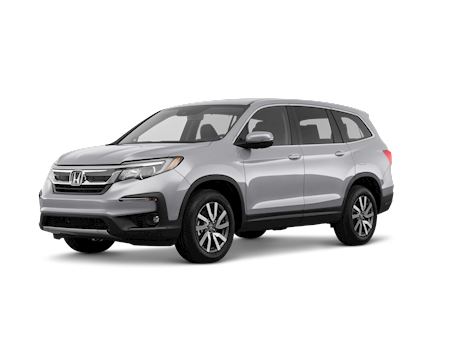 What Honda Pilot Trim Should You Choose?
There are a lot of trim options for the Honda Pilot that come with noticeable price differences. It's important when choosing a trim that you weigh your budget with lifestyle and preferences carefully. If certain features are worth the extra cost because they are important to you and it fits within your budget, then you should consider going with that trim.
If you know you will be going offroading quite a bit, then the Trailsport might be worth the higher price tag. It comes with a lot of updates that make driving offroad easier. If you won't be doing a lot of offroading, it probably isn't the right trim for you.
If you care about luxury upgrades, then the Touring or the Elite trims will be the best options for you. Though these trims come with higher prices, they have more technology upgrades than the more basic trims.
If you're looking for a vehicle with great value, then the Sport and EX-L trims are the best options. They have all the standard Honda safety features, plus some great additional technology features that emphasize comfort, like heated front seats, lots of legroom, and a touchscreen display center.
Car shopping can be stressful and confusing. Our team at Brickell Honda is here to help you with all your questions concerning models, different trims, and financing options. We want to provide you with an excellent car-buying experience. From test-driving different models, picking out the trim, and understanding your payment plan options, we will guide you through the process so that you can walk away with a new car that you love.