Buying a Used Honda Passport
The Passport originally appeared in Honda's lineup in the early 90s as part of the manufacturer's foray into SUVs. Discontinued in 2003 so that Honda could focus more extensively on the Pilot, the Passport was reintroduced in late 2018 (for the 2019 model year) as a model that fit between the CR-V and the Pilot. Let's take a look at some of the benefits that you get when you buy a used Honda Passport, as well as some of the major features.
The Honda Passport Profile (Model Years 2019 to 2022)
Some people think of the Passport as a "coupe" version of the Honda Pilot. These cars are built on the same platform. If you purchase a model year from 2019 to 2022, you will enjoy a smooth, powerful 3.5 liter V6 engine with a nine-speed automatic transmission. Overall, these vehicles are pretty fuel efficient, averaging about 21 MPG overall. The Passport seats five people, features plenty of legroom, and has storage spaces. The spacious cabin, storage space, and technology make this SUV a great option for people who might have owned a Ford Escape or other brand of mid-sized SUV. With the Passport, there are different trims to choose from:
Sport: This is the basic model of the Honda Passport. In model year 2022, this was not an option in the trims.
EX-L: The EX-L has a powerful V-6 engine, leather-trimmed seats, and other powerful features, like Intelligent Traction Management.
TrailSport: The TrailSport has rugged wheels, unique styling, and navigation.
Elite: The Elite, by and far, is the most premium Passport, complete with a premium sound system.
What model years of the Honda Passport are best?
Since the Honda Passport was only reintroduced for the 2019 model year, there are fewer years to choose from. Many people will shop for 2020, 2021, or 2022 Passports, since 2019 was the first year the Passport was back in production. However, the 2019 Passport is also a good year if you can find one. Over the years, the Honda Passport has also won many awards. For example:
In 2022, the Passport was US News & World Report's best two-row SUV for families, because of its safety rating, large cargo space, and comfortable passenger seats.
In 2021, the Passport was also US News & World Report's best two-row SUV for the money. Many smaller families that traditionally bought the Pilot tried the Honda Passport and thought it was just the right amount of car for their needs.
If you purchase any of the recent Passports from the last few years, you will find outstanding features, ranging from state-of-the-art electronics to one-touch sunroofs.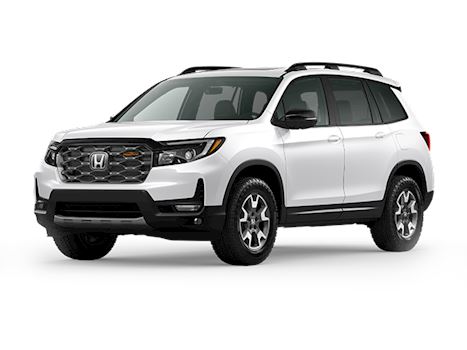 How much money could you save when you purchase a used Honda Passport?
The current model year of the Honda Passport is going to start at just under $43,000 MSRP, depending upon the trim and features. By choosing a used Honda Passport, you might end up only paying $30,000, depending upon the year and mileage.
Many people also elect to purchase a used model that was previously leased. A previously leased Honda Passport will:
Be almost like purchasing a current model year, and will have low mileage.
Often have premium features that you won't find in the current model year at your desired price.
Have been maintained regularly per Honda's maintenance guidelines.
When it comes to midsize SUVs, the Honda Passport is the ultimate purchase in terms of performance, safety, and reliability.
Who should buy a used Honda Passport?
The Honda Passport is a great two-row SUV for families and is the best purchase for the money. It is also a very safe SUV, consistently receiving 5 out of 5 stars from the NHTSA on safety. US News & World Report always gives the Passport rave reviews on its interior quality, cargo room, and its long list of standard equipment.
For many people, the Passport fills a nice gap between the smaller CR-V and the spacious Pilot. A used Honda Passport is often a great way to get around the higher base price for the current year's model.
Some guidelines to follow when purchasing a used Honda Passport
A used Honda Passport can be a great fit for many families and individuals. Here are some guidelines to follow when shopping for your next used Honda Passport:
If you are making a choice between a Honda Passport and a Honda Pilot, make sure the Passport will provide all the space that you need.
Try and find model years from 2020 onwards, but the 2019 model year is also a great fit.
Make sure to test drive a few different model years to find one that drives the way you want.
If you plan on using your Passport more "ruggedly," consider a TrailSport or an Elite. These trims have more features, such as different tires, that will make a world of difference.
Ways to finance your used Honda Passport
There are ways to reduce the amount of money that you will spend on a used Honda Passport. First and foremost, try making anywhere from 10% to 20% for your down payment. As a general rule of thumb, every $1,000 that you put towards a down payment could reduce your monthly payment by anywhere from $15 to $20.
Consider trading in your smaller Honda if you absolutely don't need the older car. Trading in your vehicle can save you a lot of money on your tax liability in the long run.
Purchase your next used Honda Passport from Brickell Honda
Brickell Honda is your ultimate resource for purchasing your next Honda Passport. We consistently, year over year, win many prestigious rewards as a dealership, such as Honda's President's Award. When you purchase your next Honda from Brickell, we will make sure that you get a first-in-class buying experience.