Buying a Used Honda Ridgeline

Currently, the only truck produced by Honda, the Ridgeline, is a mid-size pickup truck with an emphasis on refinement. This pickup truck has an unusual unibody construction based on an SUV, which isn't the traditional approach. Most other trucks use body-on-frame construction. This SUV-inspired approach makes this truck perfect for everyday rather than for heavy-duty towing.
The Honda Ridgeline in Recent Years (2017-2023)
The first generation of Honda Ridgeline pickup trucks was first made in 2006 and continued until 2014. After a hiatus, the second generation of the Honda Ridgeline was produced in 2017. With its unibody construction based on the Honda Pilot platform, the truck offers secure handling and a comfortable ride similar to an SUV. With versatile storage options in the interior, as well as a lockable storage compartment and tailgate options in the bed, the Ridgeline offers many possible uses. The truck is powered by a 3.5-liter V6 engine and features safety features, like forward collision warning and automatic emergency braking, made standard in the 2020 model.
The Honda Ridgeline comes in four different trims– the sport, RTL, RTL-E, and Black edition. The sport trim includes standard features, like an all-wheel drive system, a dual-action tailgate, and intelligent traction management with snow, sand, and mud modes. The RTL has key features such as heated leather seating, blind spot information with cross traffic monitor, and a moonroof. The RTL-E is outfitted with additional technology features, like parking sensors, a truck-bed audio system, and a wireless phone charger. The Black edition trim comes with noticeable aesthetic differences, including a black leather interior, red-ambient LED lighting, and 18-inch gloss-black alloy wheels.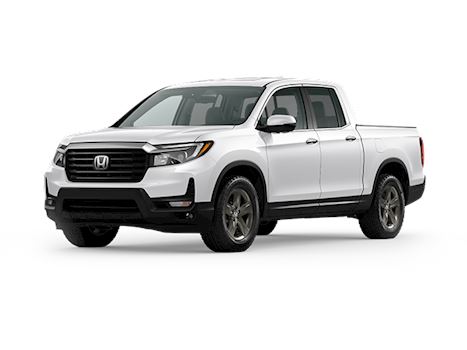 What Model Year Ridgeline Should You Buy?
If you are looking for the best models of the Ridgeline available, then it's best to stick to the second generation. The current model year is outfitted with plenty of standard safety and technology features that can fit your expectations.
The Ridgeline sport: This trim comes with safety features, like a rearview multi-angle camera, a collision mitigation braking system, and a road departure mitigation system.
The Ridgeline RTL: This trim features the same standard safety features of the sport, plus a blind spot information system. In addition, this model also comes with power front seats and a power sliding rear window.
The Ridgeline RTL-E: This trim adds parking sensors to its safety features. It also adds a few different technology features that can increase your comfort levels, like smart entry with a walk-away auto lock, tri-zone automatic climate control, and a wireless charging station for your phone.
The Black Edition: This trim features all the same technology and safety features that the RTL-E has to offer but has a black aesthetic for its exterior trim and interior style.
Why Should You Buy a Honda Ridgeline?
With its versatility and comfort, this pickup truck is different from its competitors. Though it may not be the best choice for those looking for maximum towing capabilities, the Ridgeline is adaptable for running around town during the week and heading off to explore the outdoors on the weekend. Thanks to its SUV construction and fully independent suspension system, the ride is smooth and comfortable, while the handling is quite responsive. With its all-wheel drive and its intelligent traction management system that features modes like sand, snow, and mud, you'll be able to do some off-roading with this pickup truck without sacrificing comfort. Inside this five-seater cabin, you'll find standard noise cancelation capabilities that will keep it nice and quiet, plus all trims of the Ridgeline feature an 8-inch high-resolution infotainment touchscreen.
What Are Some of the Best Tips for Choosing a Honda Ridgeline?
With all of the different options available, choosing the right used Honda Ridgeline trim can be difficult. The easiest way to choose a trim is to sort through your priorities. What safety features matter the most to you? Does style matter more than price? Do you want the most up-to-date technology features?
The current model year of the Honda Ridgeline features the most updated standard safety and technology features across different trims.
The RTL-E features the most safety and technology features and carries a slightly lower price tag than the Black Edition.
The Black Edition features an elegant exterior and interior aesthetic option and contains all the safety and technology features of the other trims.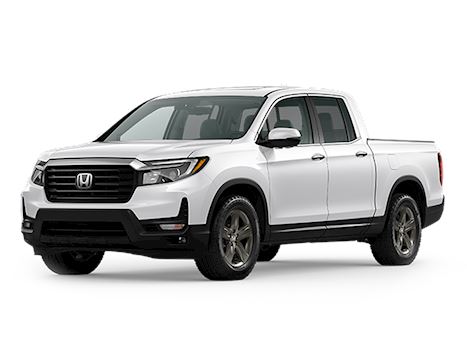 If you're looking to buy a used Honda Ridgeline, the current model year is a safe and comfortable option with many different technology features available. If technology features are important to you, then the RTL-E is the best option in terms of value and technology options.
Financing a Used Ridgeline
Leasing a used Honda Ridgeline can be an excellent option. Trading in an older Ridgeline model for the current model year can help mitigate costs. You should aim to make a down payment of 10% to 20% if you can afford it. Brickell Honda has an experienced finance team dedicated to finding you the best affordable plans so your car buying experience can be as worry-free as possible.
Work with Brickell Honda to Find Your Next Pickup Truck
If you're ready to make the jump from SUV to pickup truck driver, then choosing a used Honda Ridgeline is the perfect vehicle to make that transition. Brickell Honda strives to provide you with an excellent experience and has been honored with customer experience awards such as Honda's President's Award. From test-driving, receiving expert opinions, and working with our finance team, our service aims to personalize your car shopping experience to tailor your needs. Whatever your individual needs are, Brickell Honda will work to ensure you get the perfect vehicle that works best for your situation.