Shop Online with FastPass at Brickell Honda
At Brickell Honda, the customer is at the core of everything we do. In light of the World Health Organization declaring the coronavirus (COVID-19) a pandemic, our top priority is keeping our customers, associates and communities safe as we continue to closely monitor the situation. We take great pride in having the most passionate and knowledgeable store associates in the automotive industry. If you have any concerns, please know that our associates are only a phone call away to answer any questions you may have.
As our valued customer, we are expanding our operations to better serve you. Here is how:
Remote test drives.
We will come to you. Your home or office. Wherever is most convenient for you. (1)
Service pickup and delivery.
Need service? Schedule your appointment online and one of our associates will come to you and pick up your vehicle. Once it's ready, we will simply bring it back to you. (2)
Buy/Lease 100% online with delivery.
We have expanded our sales and service operations, so you may transact with us from the comfort of your home. Whether you need a part or accessory or an oil change, you can 100% shop online for all your vehicle needs. (3)
3-day/100-mile return policy.
If you are not comfortable with your purchase, simply return your vehicle within 3 days or 100 miles, whichever comes first. No questions asked. (4)
Enhanced safety precautions.
We are providing our store with the necessary supply of disinfectant materials and hand sanitizer to frequently clean high-touch surfaces in order to kill germs and ensure our store is a safe environment for both our customers and store associates.
Enhanced sanitization efforts.
Complimentary vehicle cleaning, exterior and interior, and safety inspection. (5)
100% Online Direct To You Powered by Fast Pass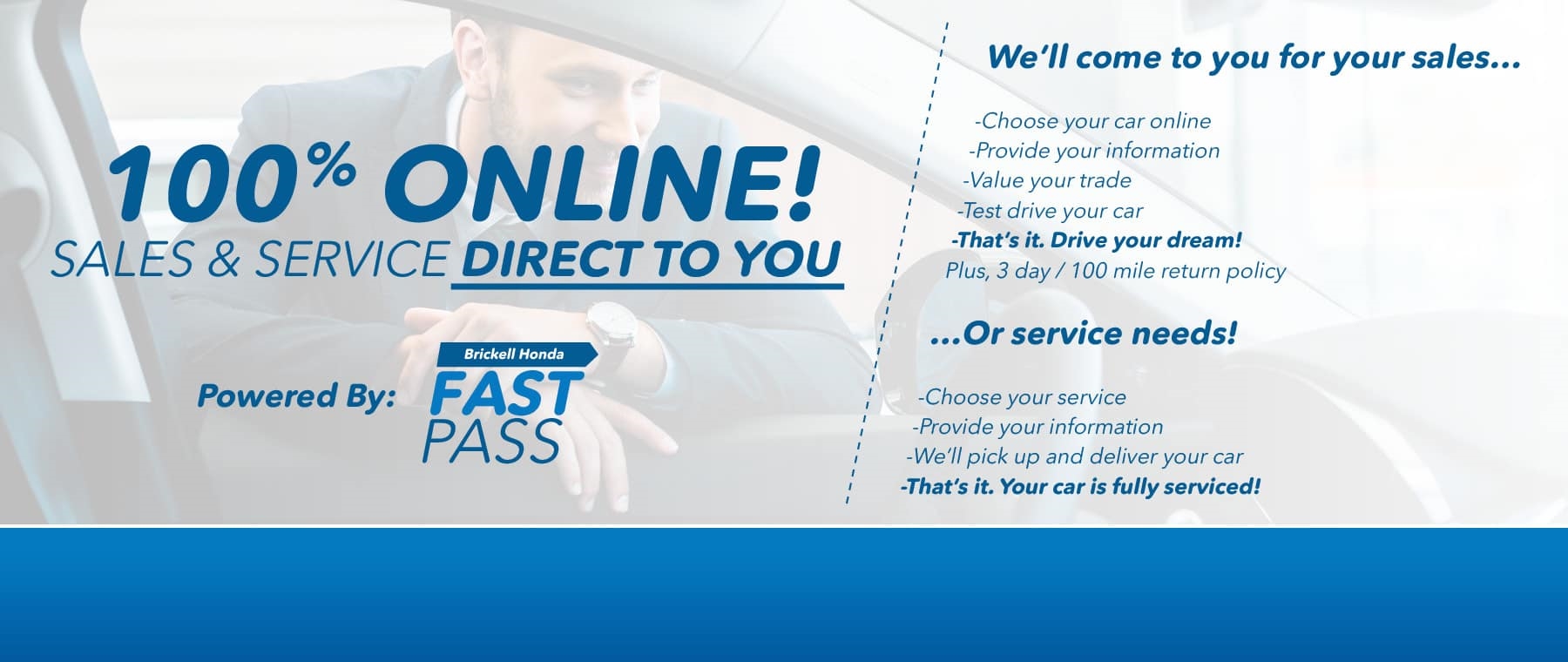 (1) Valid driver's license required for all test drives. Some restrictions may apply, not all customers will qualify. See store for complete details. (2) Pick-up & Delivery service is conducted by our drivers who will drive your vehicle back to our dealership to complete the pick-up delivery service. If you require towing service, we can provide a quote from one of our towing service partners. Please call for any additional questions. (3) All online transactions are protected by applicable federal privacy laws, and customer information will not be shared and/or distributed without customer consent. (4) Return policy applies to new and used vehicles; we will gladly exchange your vehicle or refund your money with no fees. Charges may apply for additional mileage over 100 miles. (5) While supplies last, limit 1 per customer.
(2)Our 3-Day Money Back Guarantee begins the day you receive the vehicle, regardless of time of day. During that time, you can drive it for up to 100 miles and return or exchange it for any reason. To return or exchange your vehicle, you must let us know prior to 5 p.m. EST on the 3rd calendar day after receiving your vehicle. We cannot accept a return if the car has been: modified, in an accident or damaged, altered from the condition it was delivered in, or put on a security as a loan or lease, also known as encumbrance. You can exchange once per purchase, the second vehicle received will NOT come with our 3-Day Money Back Guarantee, and cannot be exchanged or returned once accepted. If the car doesn't have any of the issues listed above, we will accept the return within the 3 days. Please note, if your financing included negative equity from your trade-in, you can either repay the negative equity or finance it with a different vehicle, subject to financing approval.