How to Negotiate With a Dealer on Car Price

For first-time car buyers, negotiating price at the dealership might seem challenging. When most people visit the dealership, the conversation starts with a conversation on the monthly payment. If you've done your research, understand your budget, and know the purchase price of a vehicle, you can likely talk to the dealer about the things you want in a car, such as features, mileage, and the model/trim. Let's take a look at how you can negotiate with the dealer on price and drive away in the car that you want.
What to do before you visit the dealership
Before you visit the dealership, gather information on the car that you want. If you are looking at a new vehicle, know the MSRP; for a used vehicle, you will want to know the Kelley Blue Book value. Before settling on one particular vehicle listed on the website, do some research on your own, looking at:
Mileage: You may find older model years with fewer miles with the same features as a newer model year.
Features: Make a list of must-have features in your vehicle. Knowing your features will help you choose from different trims and model years in the dealer inventory.
Budget: If you know the sale price of your choice car, you can benchmark a low and high price and use a payment estimator to get a sense of what your monthly payment will be.
Researching your needs versus your budget will help the negotiation process, as the dealer will guide you to the car that is right for you.
Plan on spending some time at the dealership
In 2020, Cost Automotive Research & Market Intelligence did a study on the car-buying experience. The study found that the average customer spends about 2 hours and 30 minutes at the dealership. The visit typically includes talking to a few salespeople, taking a few vehicles for a test drive, and filling out the required financing paperwork. Before visiting the dealership, make sure you have a good chunk of time free in your day. If you plan on trading in your existing car, your visit at the dealership could take four hours or more.
Here are some tips to help you speed up your time at the dealership:
Do your research beforehand: Spend some time online to research the make and model of the car you want to buy, and get a sense of its price range. You should also research the dealership and read reviews from other customers.
Get pre-approved for financing: If you plan on financing the purchase of the car, get pre-approved for a loan from your bank or credit union before you go to the dealership. This can save you time and potentially money on interest rates.
Schedule an appointment: Call ahead and schedule an appointment with a salesperson, so they can have the car ready for you when you arrive.
Bring all the necessary documents: Bring your driver's license, proof of insurance, and any other documents that the dealership may require for the purchase.
Be clear about your budget and preferences: Be upfront with the salesperson about your budget and what you're looking for in a car, so they can help you find the best options within your price range.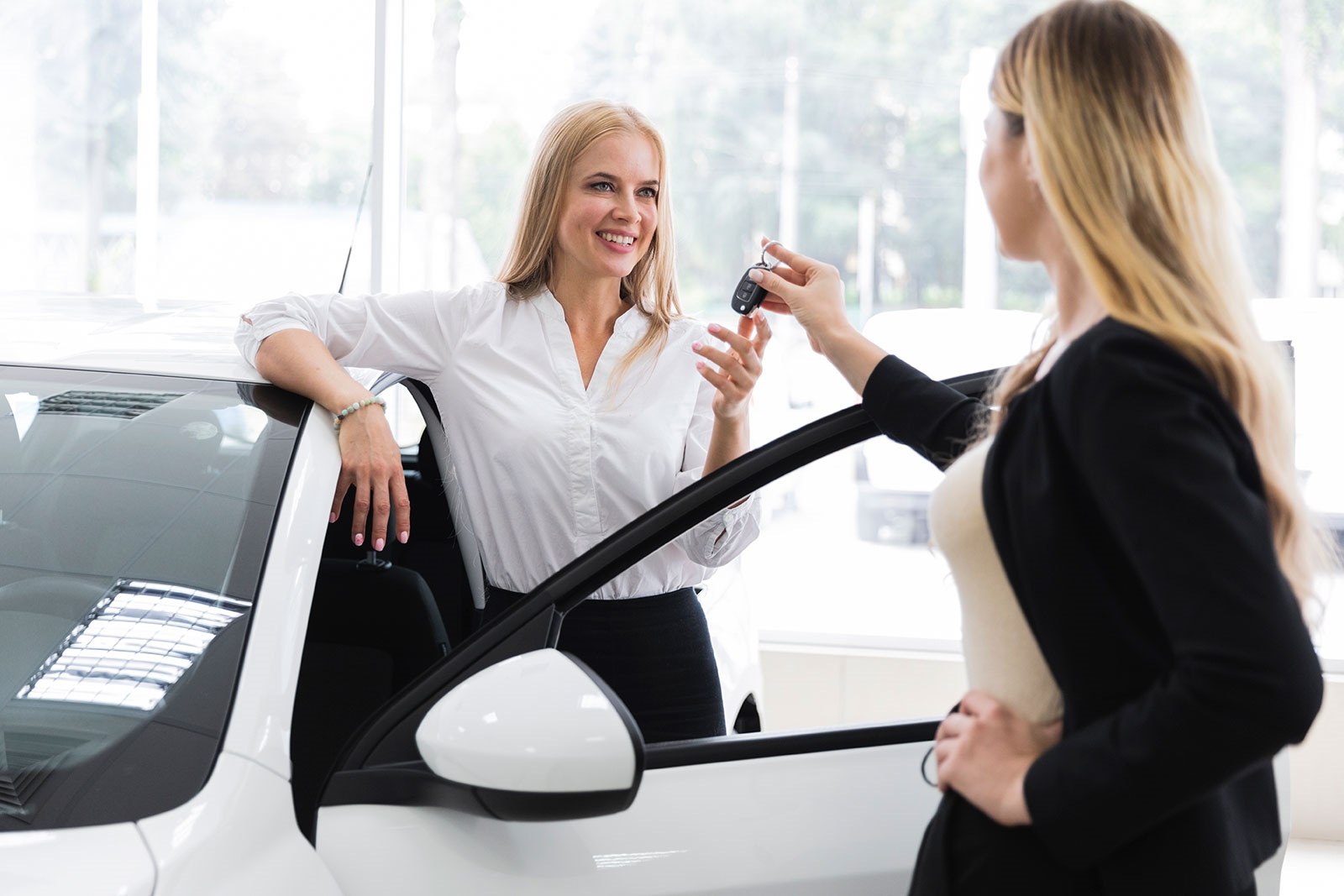 Find a salesperson that you feel comfortable with
When you visit the dealership, find a salesperson that you feel comfortable with. Their job is to help you find the right vehicle that fits your budget, financing options, and your needs. If you have a list of "must-haves" on your vehicle, they can suggest certain vehicles in the inventory that fit that list. Here is what you can let the salesperson know before you start the buying process:
You have carefully researched certain models and trims in the dealer's inventory and would like to test drive a few of them.
You have a ballpark estimate of your budget and know a comfortable range for a monthly payment.
You should also let them know why you chose the particular dealership, whether it's for reviews or if you're a repeat customer.
Some tips for negotiating the price on a used car
In some ways, it's easier to negotiate price on a used car rather than a new car. They aren't locked into a new car's MSRP, and the vehicle could have been a trade-in or from the dealership's lease program. Here are some tips to help you get the price you want:
Make the first offer: If the car's sticker price is $22,000, but your research shows that you should be paying $19,000, make an offer of $18,000. This will give the dealer the opportunity to make an offer below the sticker price.
Negotiate on things other than price: You can ask for better terms on financing rates, your trade in, and service contracts.
Use your price as a negotiating tool: If you don't end up agreeing on a price for your first choice vehicles, ask the dealer about other options in their inventory. You might not have considered other vehicles with similar features to what you want.
Ask about used vehicles that have just come in, but are not yet on the dealer's website: Sometimes, the dealer might have gotten some new used inventory in. It might be easier to negotiate price if a final value hasn't been put on the sticker yet.
Some tips for negotiating price on current model years
With a current model year, there is something called the invoice price. This is the price that the dealer paid the manufacturer directly for the vehicle. Some dealerships disclose this, while others don't. This is different from MSRP, which is the manufacturer's suggested retail price. In some ways, there is less wiggle room on new vehicles because of the invoice price. Here are some tips for negotiating prices on current model years:
Stay focused on models that fall neatly into your budget. Even though the nicer features of more luxury models are exciting, you might find yourself locked into a higher price with more bells and whistles.
Pick key times of the year to shop for new cars. Always consider the end of the year, but the end of the month as sales quotas need to be reached are also good times to get a new vehicle.
Consider going pre-qualified or using cash on hand to secure a larger down payment. This will often result in a situation that is favorable to you as a buyer.
Work with Brickell Honda of Miami
The bottom line is that if you are choosing a dealership, you probably liked something about them, whether it was their reviews or their inventory. Your dealer wants to sell you the perfect car that meets your budget and needs. Brickell Honda has options whether you are looking for a new or used vehicle, or want to lease. Get in touch with us today to learn more.