SUVs for Off-Roading: How to Choose the Best One for Your Adventure
For rugged conditions, you need the very best vehicle to keep you safe. Honda vehicles are well known for their safety and reliability, which is why their SUVs for off-roading make a great choice for adventures.
Depending on your needs and preferences, you may find that a particular Honda vehicle suits you better than others. If you have a large family, then you'll need an SUV with plenty of passenger space and versatile storage options. If you need a vehicle that can go from work to play easily, then you might want to consider a vehicle with plenty of cargo space and towing capabilities.
Whatever your needs may be, Honda has a few off-road vehicle options available. Designed to perform under rugged conditions, these cars are perfect for all types of adventures. We'll go over these top models, plus we'll explain why they might work best for you.
Honda's History With Offroad Vehicles
Honda has a strong history with SUVs and offroad vehicles. In the early 1990s, Honda launched its first SUV with the introduction of the Passport. In 1995, Honda released its first compact SUV, the CR-V, and in 1998 entered the full-sized SUV market with the Pilot. Honda's rich line of SUVS, ranging from the CR-V to the Pilot, also has its origins in its development of other offroad vehicles, such as ATVs and dirtbikes. Honda also offers several different accessories for SUV owners. If you want to sport out your SUV after you purchase it, you can also purchase parts and accessories like tires, cargo trays, floor mats, mud or splash guards, roof racks, and wiper blades.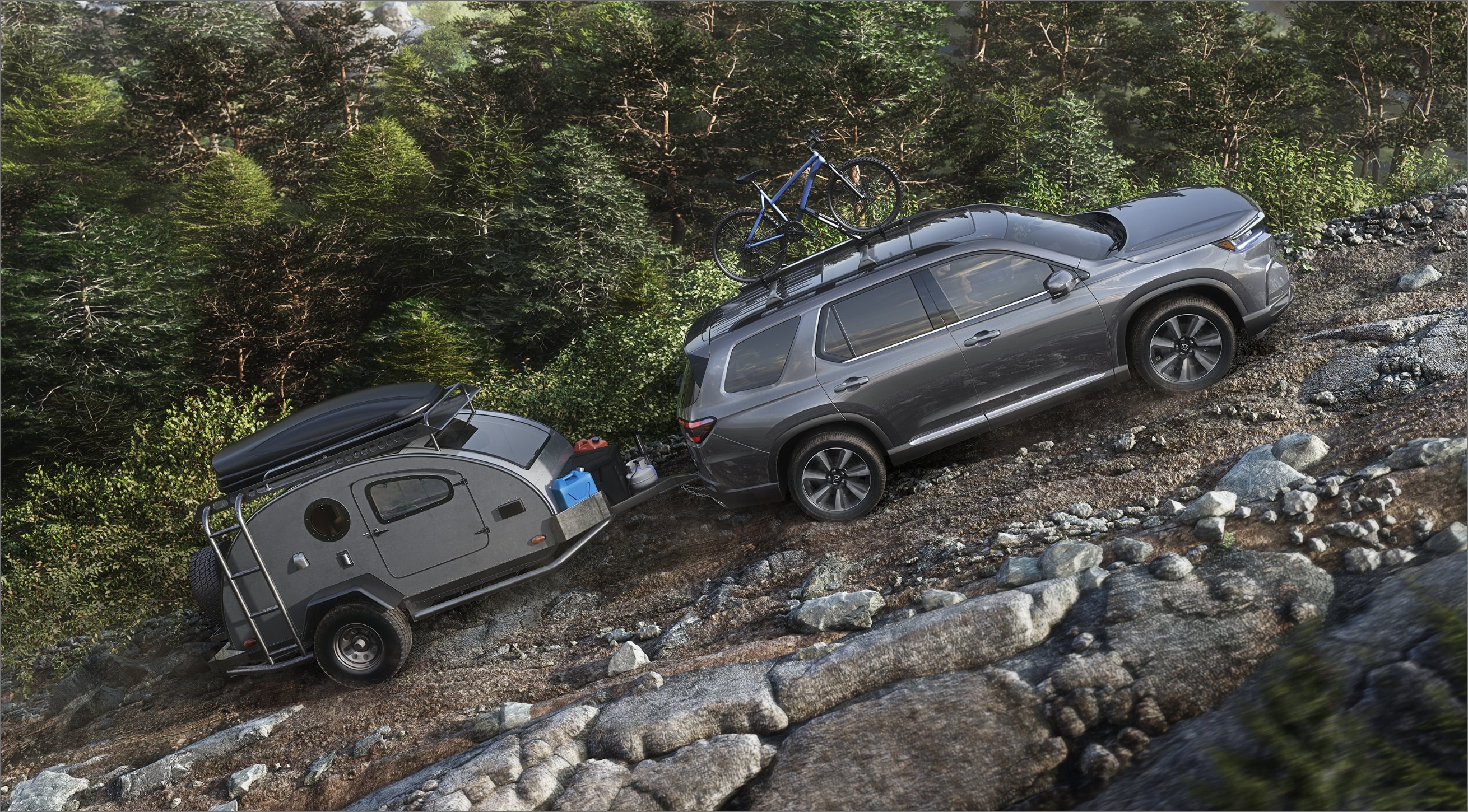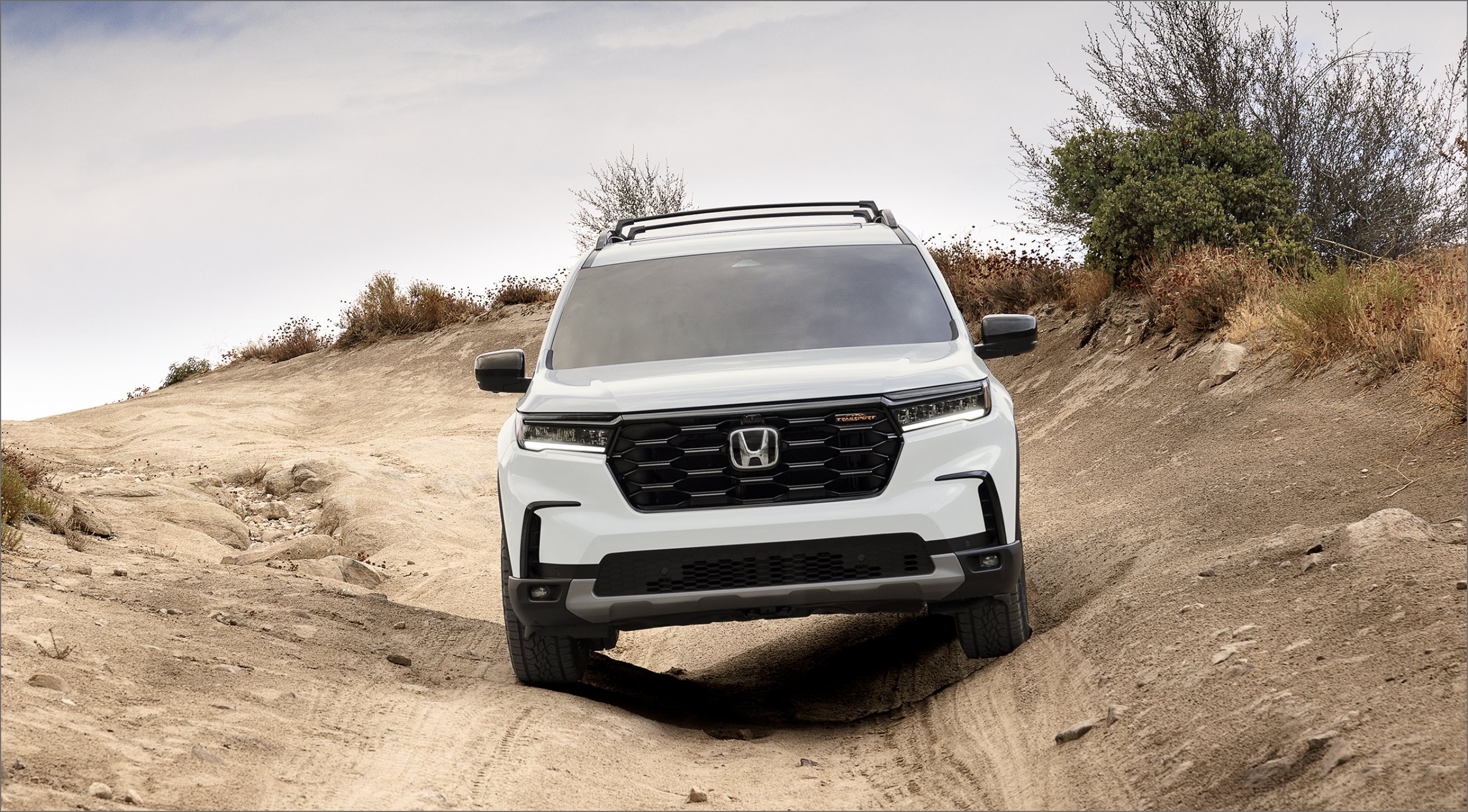 An SUV for Family Adventures
For families that like to hit the road and go on outdoor adventures, having a car that is safe, reliable, comfortable, and convenient is a must. The Honda Pilot SUV delivers on all of these features with a functional exterior design, safe technology, and a practical cabin. Its rugged capabilities come down to its ability to handle bad weather and rough terrain, in part due to its intelligent all-wheel drive system. With this system, drivers will be able to switch to snow mode for icy road conditions to help maintain traction.
In addition to its all-wheel drive system, the Pilot is built to accommodate a lot of passengers. With seating of up to eight people, this SUV is perfect for families looking to go on an outdoor adventure. It even has towing capabilities of up to 5000 lbs, which is enough to haul a boat, camper, or trailer.
The Pilot is also popular with families thanks to its high-quality technology features. With both safety and convenience in mind, you'll be left impressed by the standard blind spot information system, push-button start, and tri-zone automatic climate control, among other helpful and comfortable features located throughout the cabin.
The Best Off-Roading Vehicle for Work
Though the Honda Ridgeline is not a typical SUV family car, this truck is perfect for those who need cargo space for work but has enough room for passengers on the weekends. With a comfortable cabin that is roomy and technologically advanced, like an SUV, this truck will work well for families.
While most pickup trucks have a body-on-frame construction, the Ridgeline has a unibody build. With this type of construction, the Ridgeline offers a smooth riding experience that is like that of a crossover SUV.
The Ridgeline also offers plenty of convenient features for work or for adventure, like a lockable bed trunk, dual-action tailgate, a 150-watt and 400-watt trunk bed power outlet, and an integrated class Ⅲ trailer hitch.
However, the Ridgeline is not just functional and practical–it's also comfortable. The cabin is roomy and seats up to five people. In addition to comfort, there are a lot of advanced technology features, like Bluetooth, an eight-inch touchscreen display, and Apple Carplay and Android Auto capabilities, to make the riding experience more enjoyable for you and your passengers.
The Most Versatile SUV
If you're looking at SUVs for off-roading capabilities as well as in-town driving, then you'll want to consider the versatile CR-V Hybrid. With excellent fuel efficiency, you'll be able to save money on long road trips and be prepared for all kinds of weather and driving conditions. It's perfect for families that live in town but would like a vehicle that has some capability for off-roading and harsh weather conditions.
With an intelligent all-wheel drive system, the CR-V Hybrid can tackle rough road conditions. However, thanks to its unibody construction and hybrid engine, driving around town will be a smooth and easy experience, plus you'll be able to save money at the gas pump.
You'll also find that the CR-V Hybrid comes with convenient features, like a push-button start, fold-down rear seating, and USB charging ports. Having standard features like these will help to make rides more convenient and comfortable no matter where you are driving.
The best SUVs for off-roading will be the ones that work best for your lifestyle. If you need an SUV that is large and powerful enough for family adventures, then you'll appreciate the Pilot. However, if you need something more versatile between off-roading and in-town driving, then the CR-V Hybrid might be the right choice for your needs. Whatever your needs and preferences are, Honda vehicles are built with safety and reliability in mind. All SUV models come with a set of standard safety features available on all trim levels. If you're interested in exploring these SUV models at Brickell Honda, we carry these vehicle options in our new inventory section.